Social Media Marketing in Lahore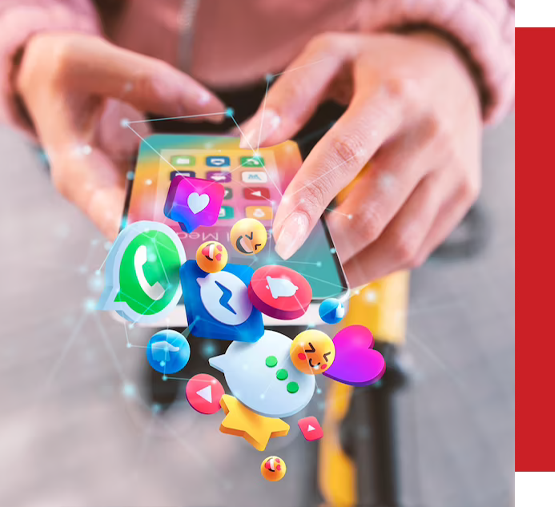 Welcome to Corvit Systems' Social Media Marketing (SMM) service page!
When attracting customers towards your brand through increased visibility and awareness about your products or services, you can use various social media channels. And social media marketing is the process through which you can achieve this target; our comprehensive SMM services at Corvit Systems help businesses make it possible through effective social media optimization techniques to target the right audience meaningfully.
Contact Us
Call Now
The features our SMM services have
Corvit Systems is one of the most renowned names in offering social media marketing services. We make these services result-oriented and targeted through our key features. Here are the features our SMM services have:
Social Media Strategy
Development
Our team of experts knows exactly how to coordinate with and develop such a strategy that you can easily align with your organizational goals and objectives and target audience.
Social Media Profile
Optimization
Optimizing social media profiles to ensure you are presented as a professional and experienced business organization has a major role in providing you the SMM services you deserve.
Content Creation and
Management
We also offer excellent content creation services to help you resonate with your potential customers. For that, we have a team of top-quality content creators who can provide engaging and high-quality content when required.
Social Media Analytics and
Reporting
We at Corvit Systems keep you informed about your business performance on social media pages by regularly providing reports and analytics. This reporting helps you measure your social media campaigns and decide timely.
We also organize and manage social media advertising campaigns to increase traffic and engage potential customers more effectively. This activity helps improve your presence on the website and social media pages.
Benefits of social media marketing
When hiring Corvit Systems for social media marketing services, you can get the following benefits:
Increased Brand Awareness
More and more people get awareness about your brand. It means SMM services help reach a wider audience and engage more potential customers.
When sharing engaging content with your followers and target audience, they can engage with your brand more aggressively and help increase revenues.
Improved Customer Loyalty
By regularly providing valuable content to your customers, you can make your customers more loyal. SMM services help you achieve this target.
Increased Traffic and Conversions
When you want to increase your website traffic, we recommend SMM services that always help increase conversions and sales.
Why Corvit Systems for SMM services?
Corvit Systems is one of only a few digital marketing firms in Pakistan with a qualified social media optimization expert team. Our experts are committed to delivering top-notch social media marketing services, which help you achieve all the goals you want to achieve through social media. So, if you are interested in our SMM services, contact us today and help your business become prominent on social media.
Contact Us
Call Now